Nescafé introduces sustainable coffee refill pouches for eco-conscious consumers
Sustainability
Nescafé has introduced a sustainable solution for coffee lovers by launching its first instant coffee refill pouch for Nescafé Gold Blend and Nescafé Original.
The new pouch not only reduces packaging waste, but it is also 97 percent lighter than the previous 200g glass jar and has 60 percent less plastic in the lid.
This 150g refill pouch can be resealed to maintain the coffee's freshness and once it is empty, consumers can easily recycle it in over 5000 stores in the UK or through kerbside collection in Ireland. Additionally, the new refill pouch offers better value for money than the standard coffee jar, which means it is cost-effective for buyers.
Consumers can find the new Nescafé Gold Blend refill pouch in all major retailers, and the Nescafé Original refill pouch will be available at the end of March. Nescafé has committed to reducing the use of virgin plastic by one third by 2025, and the new refill pouch is part of its ongoing sustainability goals. The brand also works towards making coffee farming more sustainable, with all coffee used in Nescafé products in the UK responsibly sourced.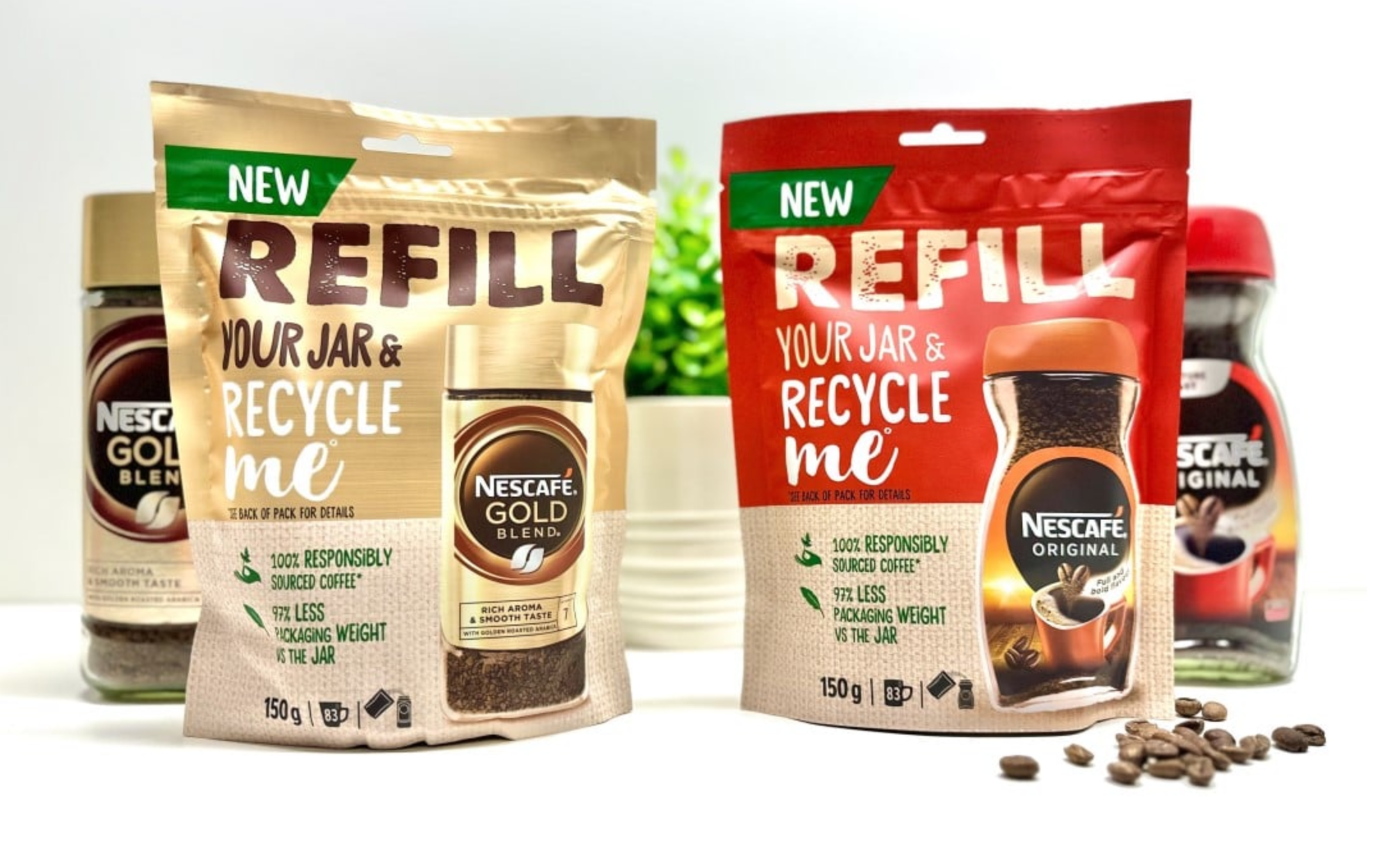 Nescafé's Plan 2030 outlines its extensive plan to bring positive change to hundreds of thousands of coffee farmers through regenerative and resilient coffee farming. The brand aims to help farmers transition to regenerative agriculture, which will lower GHG emissions, increase their income and improve social conditions in the value chain. By introducing innovative and sustainable solutions, Nescafé is leading the way towards a more environmentally friendly future.
Sophie Demoulin, Marketing Director Nescafé Soluble Coffee, said: "We know that Nescafé lovers are getting more concerned about the sustainability credentials of the products they consume. We are therefore really proud to launch this new coffee pack that offers our fans the same great coffee and the iconic rich aroma that they love in less packaging whilst offering better value for money."
This article was originally published by Nestlé UK & Ireland.