Head & Shoulders unveils BARE shampoo in 'roll and squeeze' bottle containing 45% less plastic
Sustainability
Head & Shoulders, a brand known for its quality hair care products, is excited to introduce the latest addition to its lineup: BARE shampoo. This innovative anti-dandruff solution is formulated with nine carefully selected ingredients, providing effective results for those struggling with dandruff.

What sets BARE apart is not only its powerful formula but also its packaging. The shampoo comes in a convenient 'roll and squeeze' bottle, designed to enable consumers to make the most of every drop. This recyclable packaging solution reflects Head & Shoulders' commitment to sustainability, offering an eco-friendly choice for conscientious consumers.
BARE shampoo is formulated without silicones, sulfates, and dyes, ensuring a gentle and nourishing experience. Its key ingredient, zinc pyrithione (ZPT), effectively combats dandruff, while sodium cocoyl isethionate ensures thorough cleansing. The inclusion of lauramidopropyl betaine creates a luxurious lather, and cellulosic polyquaternium helps moisturize the hair. Additionally, acrylate provides optimal thickness for ease of use, while citric acid balances the pH. With a pleasant fragrance and the natural preservative sodium benzoate, BARE shampoo offers a refreshing and long-lasting freshness.
BARE shampoo is suitable for all hair types, catering to the diverse needs and preferences of consumers. Head & Shoulders understands the growing concerns regarding the content and effectiveness of anti-dandruff products, which is why BARE has been developed with meticulous care to deliver exceptional results.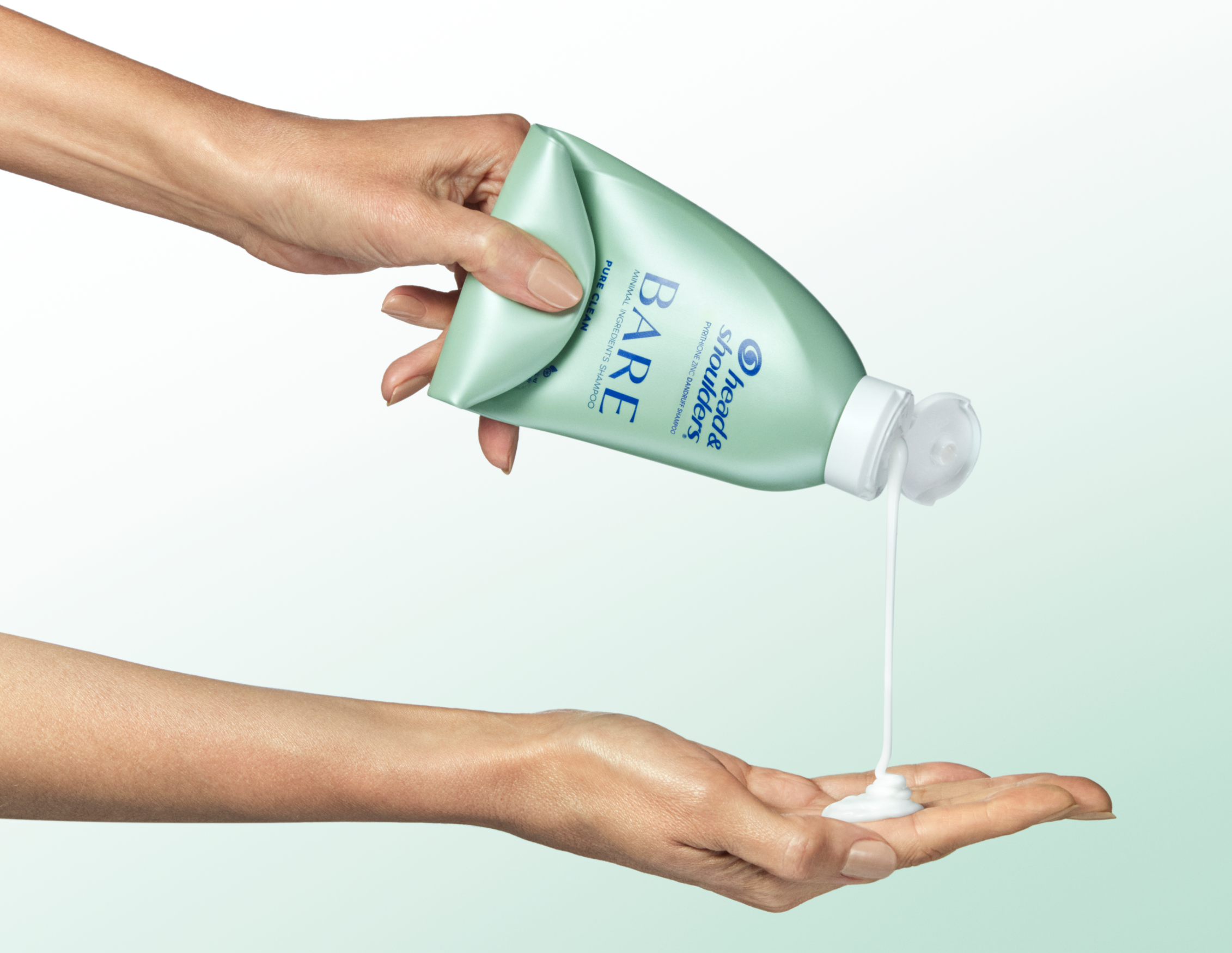 Millions of people suffer from dandruff, and many consumers are choosing minimalist products. After years of research and seven pending patents, we are excited to offer Head & Shoulders BARE, says John Brownlee, P&G Senior Vice President, NA Hair Care. Consumers can feel confident in a minimal ingredient solution – formula and bottle – that gets the job done with the trusted & proven dandruff protection that makes Head & Shoulders the #1 Dermatologist recommended brand.
Experience the innovation of BARE shampoo and its 'roll and squeeze' bottle, a testament to Head & Shoulders' commitment to providing effective solutions with sustainability in mind.