The Glenlivet unveils innovative twist cap whisky mixer bottle
Technology
The world of spirits welcomes a groundbreaking innovation as The Glenlivet introduces its Twist & Mix Cocktails – in 'the first-of-its-kind' mixer bottle.
This pioneering range of ready-to-serve whisky-based cocktails redefines convenience, combining the rich flavour of The Glenlivet single malt with an innovative twist cap. With the debut of Old Fashioned and New Manhattan varieties, enjoy these timeless favourites effortlessly – just twist, mix, and pour over ice.
The Glenlivet's Twist & Mix Cocktails bring the elegance of classic cocktails to your home. The Old Fashioned presents a smooth blend of orange, nutmeg, and cinnamon notes, while the New Manhattan captures the essence of cherry and ginger. It's a nod to tradition with a modern approach, promising an authentic taste in every sip.
As The Glenlivet continues its legacy of innovation, this unveiling marks a significant step in whisky mixology. The innovative twist cap, powered by Vessl's technology, enhances the at-home cocktail experience. With an eye-catching packaging design by JDO, The Glenlivet Twist & Mix Cocktails invite you to explore new dimensions of whisky enjoyment. Join us in raising a glass to this exciting evolution in the world of spirits.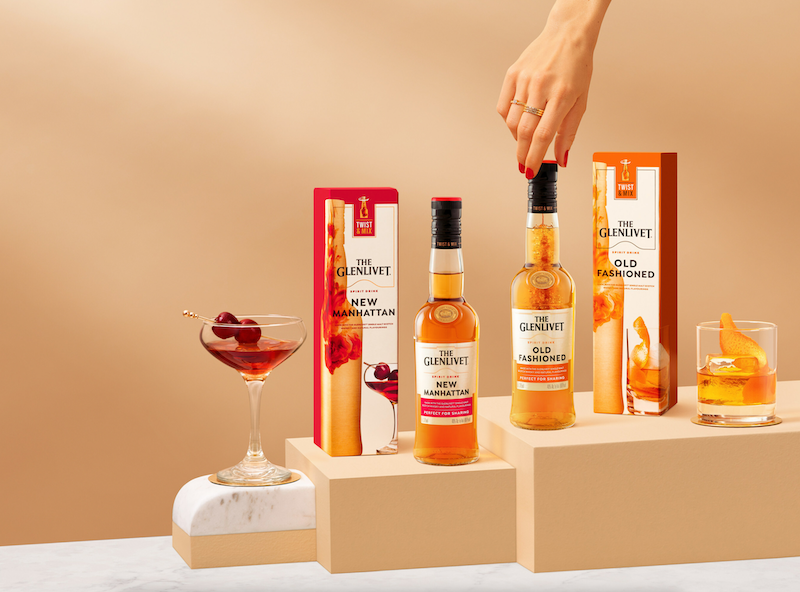 Walter D. Apodaca, Jr., Founder and CEO, Vessl, Inc., said: We are impressed how The Glenlivet has adopted the Vessl technology to create high quality, freshly mixed ultra-premium craft cocktails at home with no mess and no effort. This is exactly the kind of forward-thinking use of our technology that we envisioned, and tastes even better than we imagined.