Uniting sustainability and business success for a greener tomorrow
Sustainability
The partnership between sustainability & business success… unite forward thinking for our planet whilst building clientele and sales
Responsible Packaging Expo returns this year due to popular demand and feedback from the hugely successful 2022 event. The UK's leading event bringing sustainable packaging to the forefront of the industry is taking place on the 10th & 11th of October at the ExCeL London packed and ready for you to discover innovative and planet-friendly ideas, products and so much more!
From the 1st of October 2023, businesses must no longer supply, sell, or offer single-use plastic items such as plates, bowls, trays, containers, and cutlery in England. Every year, England uses 2.7 billion single-use cutlery items, most of which are plastic, and 721 million single use plates, but only 10% are recycled.
Consumers and businesses are now more than ever increasingly in demand for sustainability in quality packaging – the time is now.
We are thrilled to be partnered with the Responsible Packaging Expo, the UK's leading event bringing sustainable packaging to the forefront of the industry!
Seeking to network and make connections with industry leaders and professionals? Or are you looking for a product or service that'll boost sales and clientele whilst being kind to the environment?
You will be able to do just that, and more... from biodegradable and compostable options, seaweed and edible packaging, experts in drop-in natural materials, key-note seminars, and industry awards... the list goes on! Find out more below…
Come join us to find out more and discover ways we can help your business transition to a more sustainable future.
Meet over 200 exhibitors packed and ready for you to demo their innovative and planet-friendly products and services.
It will host thousands of like-minded business owners such as yourself looking to invest in cost-effective (to the planet!) products, ideas, and packaging solutions, plus more.
Grow business, boost profits, and attract and retain customers.
Unearth your contribution to our world within the current climate where we need you most!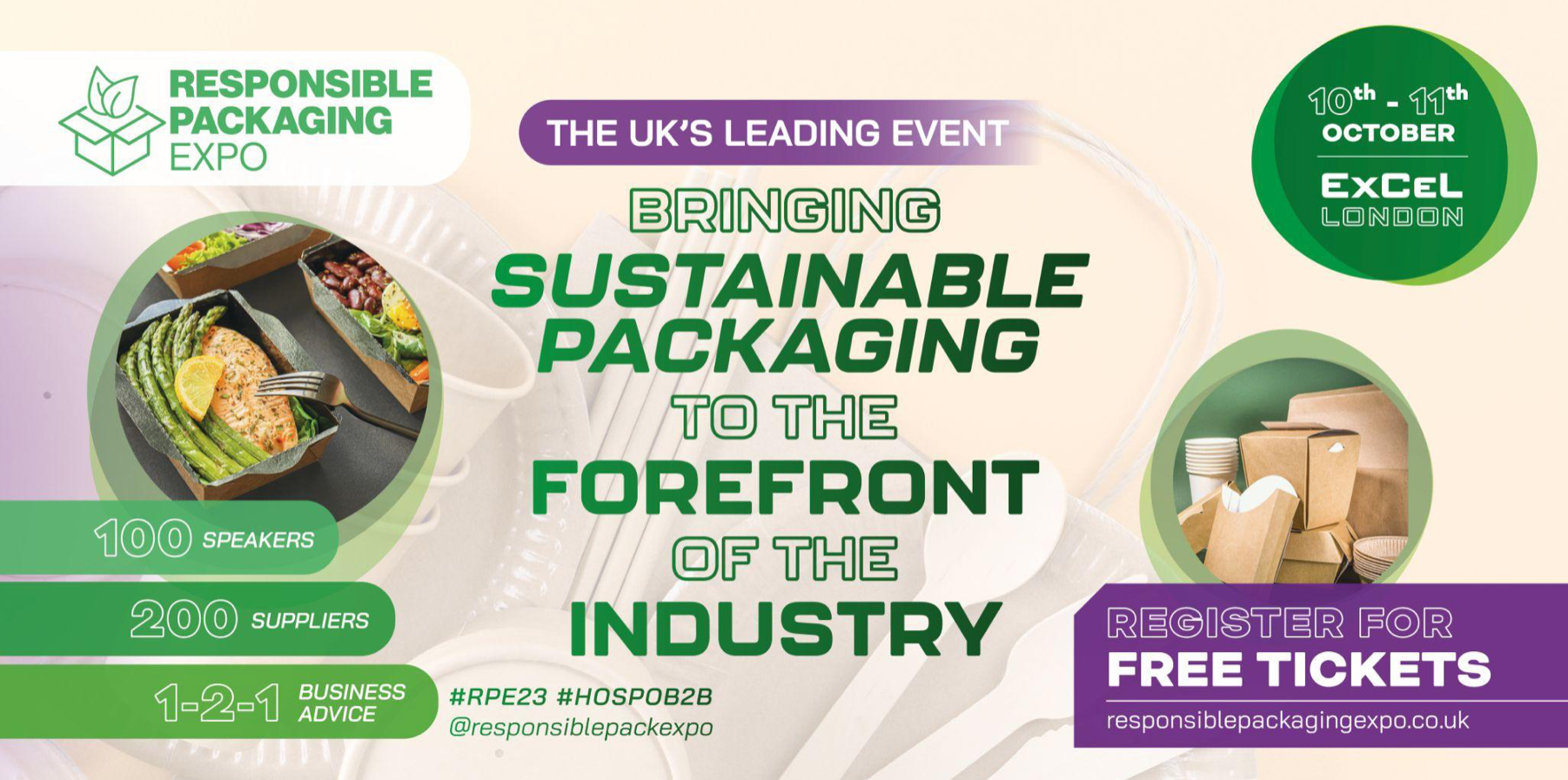 Sustainability has a vital role to play in the industry, so join the movement now, and have a look at our very own Sustainability Trail at the show. Find those inspiring suppliers and see how their solutions have changed businesses, and make your competitors envy your progressive company!
The Responsible Packaging Expo is filled with educational and innovative features; whether you want to learn from them, be inspired or just enjoy being immersed in this exciting and thought-provoking event we have something for you. The event will host 100 inspiring speakers including British Glass, Circular City Limited, Lam'on and many more. There will also be panel debates, industry awards, and much, much more!
Not only this, but the Responsible Packaging Expo also runs alongside 6 other industry leading events, making it the biggest B2B event for the growth of the hospitality industry!
Mark your calendars today and save the date - 10th & 11th of October, ExCeL London and get your FREE ticket to be exposed to the countless opportunities that will see your business thrive, and lead the way to a more sustainable future.