Macsa Id will be present at the new edition of Empack Madrid!
Supplier News
Next 29th and 30th of November, the 15th edition of Empack Madrid will take place. At this event, you will be able to travel to the future of the packaging sector and discover the latest trends in design and innovation to optimise your supply chain. This is a new opportunity to bring the entire global packaging industry together, as well as stay updated with technological developments, innovations and sustainable packaging trends for different sectors.
This event is designed so that, in just a few hours, professionals in the sector can find out about the latest advances and innovations with which to optimise their supply chain. Designers, packaging, marketing, product development, industrial packaging, labelling, printing, sustainability, weighing, palletising and robotics managers will meet at Empack Madrid where they will share their inspiration.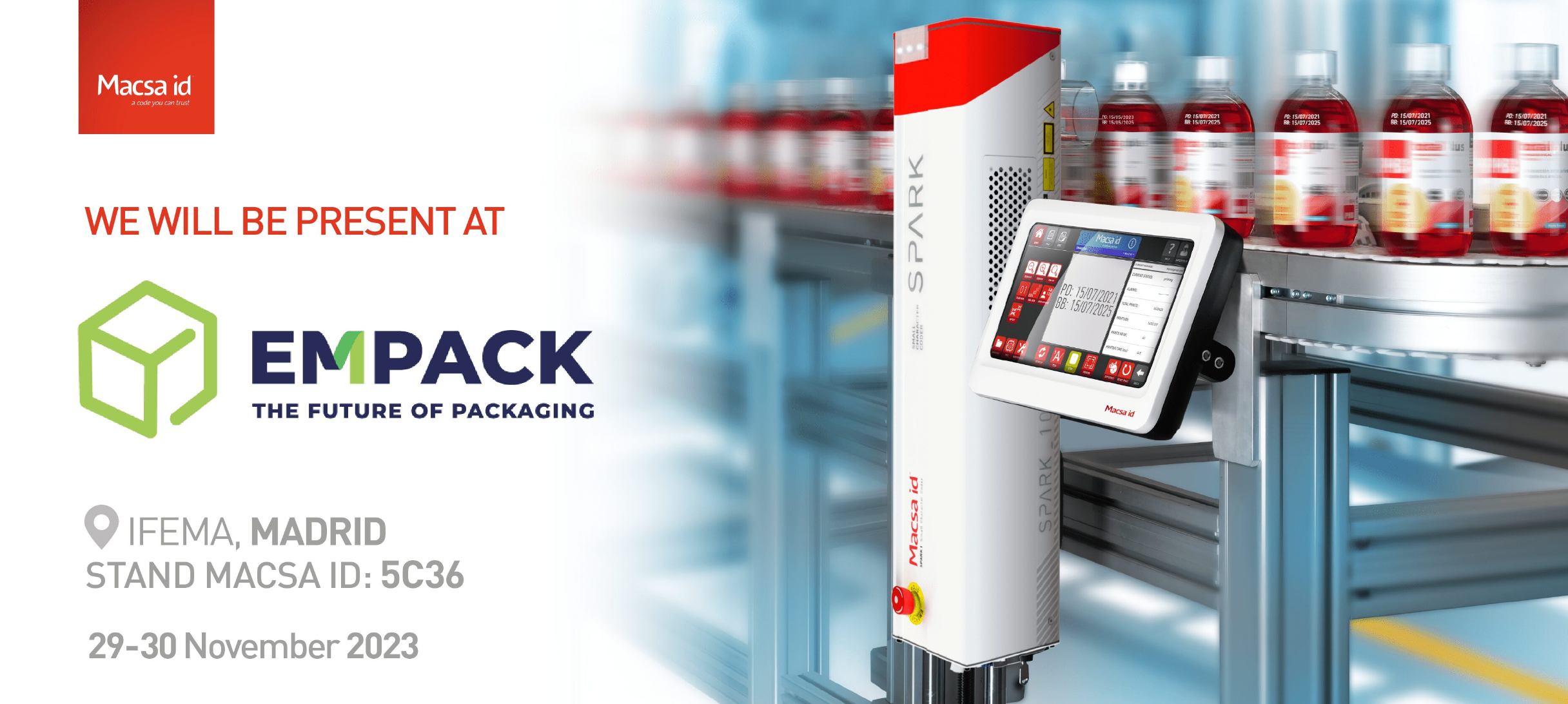 New products that will be presented at Empack
This year, at Empack Madrid, you will be able to see first-hand the latest Macsa id technologies, ideal for guaranteeing legible and durable markings and the traceability of your products:
- idBlocks 4020 lineal: Label applicator system by a lineal pneumatic cylinder that allows the label approach and its application to different lengths surfaces.

- idBlocks 4030 frontal: It is a system with a rotating arm that allows the label application on the frontal or lateral sides of the product.
- idBlocks 2050/60: Label blow-applicator system that allows labelling products at high speeds, over irregular surfaces and by blowing the label without having contact with the product.
Continuous ink coders, Linx 8900 Series, suitable for coding on multiple markets and substrates. You will also be able to see the printer Linx TT750, ideal for flexible packaging, labels and cardboard.
iLaserBox , are compact, inexpensive and easy to install laser marking workstations. With the iLaserBox, lasers can operate safely in Class 1 standard, in semi-manual marking applications and low workload.
Empack Madrid is just around the corner and we are looking forward to sharing our latest coding and traceability 4.0 solutions with you at the show and contributing to your company's efficiency.
Visit us at stand 5C36 at Empack Madrid and discover the latest coding and traceability equipment!
This article was originally published by Macsa Id.