Co-packers & Yamato Corporation: Co-partners in food packaging
Supplier News
By Justin Whorral, OEM Accounts Manager
What is a food co-packer?
Yamato Corporation recognizes that co-packers are the lifeblood of the food packaging industry. Co-packing, by definition, means contract packaging. A co-packer's business is dependent on securing the next contract, or landing a contract large enough that it lasts several years. Co-packers might secure these contracts by providing new companies with the opportunity to get off the ground by offering their production capabilities to run the new company's product, or by helping established food manufacturers with their related brands and products.
Benefits of co-packing for food manufacturing
The benefit that co-packers bring to new companies is simple and obvious. Established food manufacturers, on the other hand, may choose to work with co-packers for a variety of reasons including:
Established, fully staffed facilities: Just like the benefit co-packers provide new companies, instead of spending millions of dollars of capital to build a new manufacturing facility and then hire and train the staff to run it, food manufacturers can outsource their production to co-packers who are already set up, and staffed, to package their products for them.
Flexibility to test new products: Co-packers can support food manufacturers with their new product development by running products without compromising or interrupting the food manufacturer's existing operations.
Economy of scale: Often, established co-packers can get materials and/or ingredients at a reduced rate, offering some cost savings to food manufacturers.
Reduction in operating costs: Additional cost savings that result from working with a co-packer can be funneled back into marketing or other areas of the food manufacturer's business.
Co-packers certainly bring a lot of value to the food packaging industry, but Yamato Corporation also understands that the business of co-packing can be risky. As a co-packer is fighting for new contracts, they must be ready to satisfy that contract within a certain number of days. Also, as the contract ends, the co-packer does not want to be left with machinery they don't have any use for.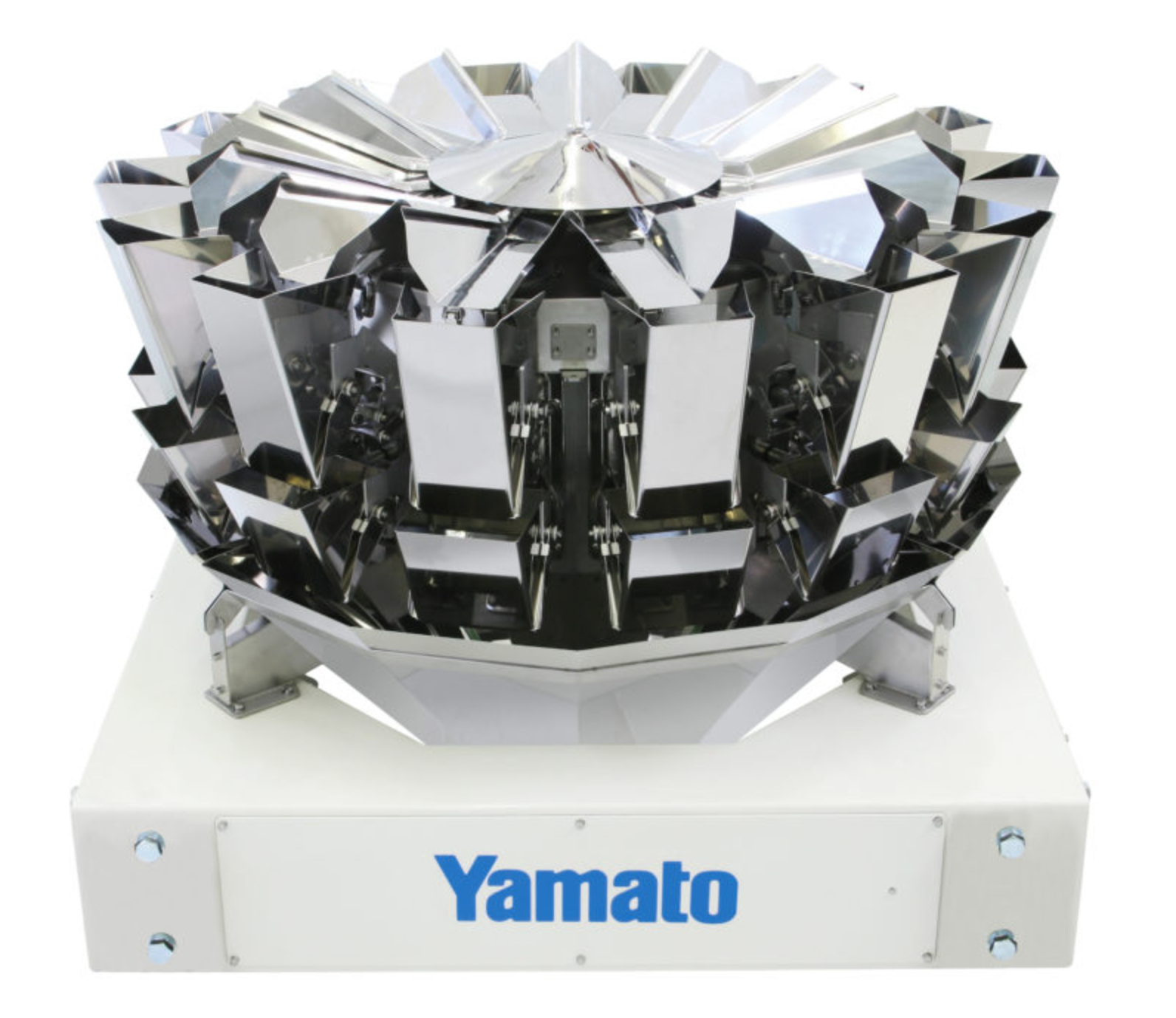 Food packaging equipment: Yamato combination scale
At Yamato Corporation, we recognize that contract packaging requires flexibility and versatility – and a Yamato combination scale is the most flexible and versatile piece of food packaging equipment a co-packer can buy.
Applying basic combination theory to weighing solutions, the more combinations available, the more accurate the scale can be. The more combinations you have, the faster the scale can run, too. A typical linear feed scale with six lanes has 64 possible combinations, whereas a typical 14-head Yamato combination scale has 16,384 combinations. Based on basic combination theory alone, a combination scale is going to provide more flexibility and versatility than any other weighing solution can.
Yamato Dataweigh™ Combination Scales further help reduce some of the risk co-packers take on by offering:
Speed: Co-packers' contracts are often based on how many bags of product they can get out the door. For this reason, speed is paramount. With any Yamato combination scale, 14 heads or more, the scale can run in double shift. This means the scale drops the selected buckets for a combination and then immediately selects the next combination from the remaining filled buckets, drastically increasing speed while still maintaining accuracy.
Accuracy: Raw materials and ingredients can be expensive. Co-packers cannot tolerate giving product away. Thankfully, Yamato multihead weighers offer supreme accuracy. Yamato combination scales will search for the most accurate target weight using all the combinations possible but will never drop an underweight.
Versatility: Co-packers must be able to run a variety of packaging equipment. As one contract ends and another starts, packaging lines may need to go from using a high-speed VFFS to a pre-made pouch machine or HFFS. The product being packaged may change from something dry and free flowing to something wet or sticky that is a little more difficult to run. Yamato multihead weighers are designed to be modular to address these shifts in equipment and products. All Yamato multihead weighers come with the ability to remove all the product contact surfaces without tools. This allows co-packers to change out product contact surfaces easily and quickly. For example, if a co-packer has a Yamato Omega combination scale with flat contact surfaces – great for running nuts and other free-flowing items – but then that co-packer wins a contract for raisins, the co-packer could easily switch over to embossed product contact surfaces by changing out the scale's components. This allows the co-packer to have one scale that runs a wide variety of products.
Yamato's patented Frontier technology encompasses all three of these aspects, making it the most versatile option in the industry, and the very best solution for co-packers.
A Yamato Frontier scale can be set up in the following ways:
High-Speed Mode: The standard setup includes two collection buckets with a parabolic transition funnel underneath. This high-speed setup allows Yamato to maintain charge separation while operating at high speeds. By alternating dumps out of the collection buckets, Yamato can run 200+ weighments per minute while maintaining charge separation, allowing for clean hermetic seals at the packaging machine.
Duplex Mode: The Frontier scale can also be outfitted to run in duplex mode over twin pre-made pouch machines or VFFS machines. This is invaluable for co-packers who need to run multiple types of bags and/or products.
Reject Mode: For products too valuable for any giveaway, or for applications that need to be done by piece count, the Frontier scale can be changed over to reject over weights or over counts. The rejected product can be returned to the feed system, eliminating all waste.
One scale. Three setups. A Yamato Frontier combination scale can be used to support a variety of circumstances. What great news for co-packers. Even better? It only takes about five minutes to switch between each setup. This allows co-packers to have the versatility and flexibility they need.
This article was originally published by Yamato.