Yamato - automate your cannabis packaging using combination scales
Supplier News
Automate your cannabis packaging using combination scales: the details make the difference
By Amanda King, Marketing Manager
At first glance, most multihead weighers – also known as combination scales – look the same. However, they are not created equal. The inner workings and overall exterior craftsmanship of this weighing equipment varies from brand to brand. The differences in these details may appear minor, but they can have a major impact on a scale's speed and accuracy. In short, the details make the difference.
For the cannabis industry, in particular, accuracy is paramount. Achieving accuracy to reduce product giveaway is often the number one goal cannabis companies are looking to achieve when introducing automation into their packaging operation. In an industry where a tenth of a gram can be costly, the combination scale being used to weigh product can make a significant difference.
If accuracy – related to product and package weight – is at the center of the cannabis packaging operation, then the scale being used to weigh is perhaps the most important investment a cannabis company can make. From weighing to filling, you'll want to ensure that your cannabis packaging machines are the top of the line.
When considering automation equipment for cannabis packaging, Yamato Corporation recommends evaluating the following factors of a multihead weigher.
Company
Is the company you're planning to buy your combination scale from a new startup? Do they have a global presence? How many years of experience? Do they only support the cannabis industry?
While there are pros and cons to most scenarios, Yamato Corporation strongly recommends considering company history and packaging knowledge and experience when shopping for a multihead weigher.
The Yamato brand has been around for over 100 years, and the Yamato combination scale was introduced over 40 years ago. Over time, it has been optimized and continues to be recognized as one of the best pieces of equipment in packaging today.
The Yamato combination scale has been used in a variety of industries with thousands of successful installations around the globe. This has allowed Yamato to collect valuable insights to improve and innovate our weighing equipment. This solid foundation has made Yamato a global leader in weighing.
Taking the information gained over years of packaging experience and coupling it with our engineering expertise, Yamato has tailor-made a combination scale for the cannabis industry. The Yamato cannabis combination scale is rooted in rich history, reinforced with years of industry knowledge.
Yamato Corporation has a team of weighing experts dedicated specifically to cannabis. This has made Yamato Corporation a trusted advisor and partner to the cannabis industry as well.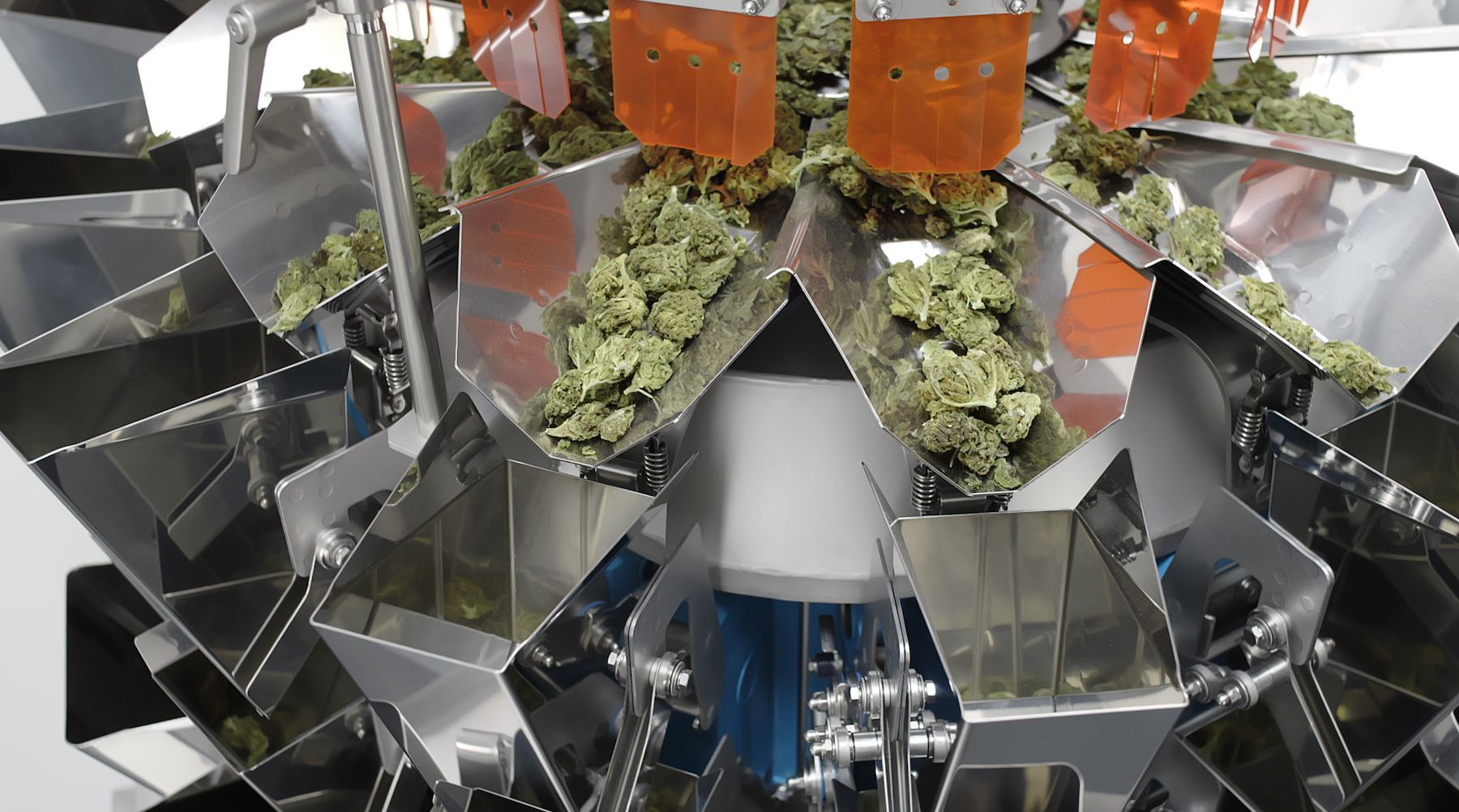 Load cells
When shopping for combination scales for cannabis, Yamato recommends you pay particular attention to the weigher's load cells.
A load cell is an internal component of a multihead weigher. Some may argue it's the most important internal component. The load cell is what measures the product weight.
The Yamato cannabis scale is equipped with 14 weigh heads and each weigh head has its own individual patented Yamato load cell that offers the highest level of accuracy. All load cells used on Yamato combination weighers are manufactured by Yamato. These actuators are only available on Yamato scales. Load cells in a Yamato scale are not sourced from anyone or anywhere else.
Yamato's patented, heavy-duty load cells, capable of handling up to 150kg of force, measure to the thousandth of a gram, which is crucial when weighing small target weights using multiple buckets. This is particularly important when taking combination theory into account.
Using basic combination theory, a 14-head scale like the Yamato cannabis weigher can make 16,384 possible combinations when all buckets are available. Typically, 3-4 heads are used in a combination to achieve the desired target weight for the packaging.
When measuring an eighth of cannabis flower (3.5g), each weigh bucket will typically contain somewhere between 0.40g and 2.20g to ensure minimal giveaway of less than 0.10g. The ability Yamato load cells have to weigh to the thousandth of a gram at each weigh bucket drastically improves accuracy and overall speed of the Yamato cannabis scale.
Further, because Yamato's load cells are so accurate, there is no need for an additional weigh bucket to collect and weigh the completed combination. This additional catch point can drastically slow speeds and introduces an unnecessary product collection where damage to trichomes can occur. If the scale you're considering includes this feature, it will be even more important to evaluate the percentage of rejects and the quality of the load cells being used. The higher the percentage of rejects, the less accurate the load cells are at the individual buckets. Higher rejects will also result in more damaged product and slower packaging speeds.
Software
When shopping for a multihead weigher, consider the technology that it is integrated with and how that data can help your business.
Perhaps the second most important part of a multihead weigher is its software. Yamato's cannabis combination scale is equipped with proprietary, intuitive software that allows the user to easily track package weights, speeds, and combinations.
Overall craftsmanship
The quality of materials used also impacts how a scale functions. Not all stainless steel is the same. Not all internal bearings and bushings are of the same quality.
Yamato Corporation recommends that you strongly consider where the scale's components are coming from and what specific material is being used to evaluate the scale's overall level of craftsmanship. Higher quality may come with a higher price tag, but often saves you money in the long run, helping you to avoid costly service repairs and ongoing parts replacements.
Equipment flexibility
When considering a multihead weigher, be sure to ask, "What else can the scale do?"
The Yamato cannabis combination scale can be used to weigh cannabis flower, sugared gummies, and other free-flowing edibles. The high level of accuracy associated with a Yamato multihead weigher also allows the machine to seamlessly handle counting applications, often required for gummies and edibles.
This scale can be integrated into a variety of packaging lines with varying levels of automation. Different packaging types, including jars and pouches, can be supported.
Service & parts
Does the provider you're considering help with installation? Do they offer training? Are all scale parts stocked locally for immediate delivery?
Yamato knows scales because scales are all we do. That's part of the Yamato Difference.
When you work with Yamato Corporation, you're working with a company that isn't only interested in selling you a piece of machinery. Installation and training are an important part of the process for our cannabis clients. Scale parts are also kept in stock here in the United States and are often sent out the same day they are ordered.
With Yamato, you're not buying a scale from us; you're buying a partnership.
Not sure where to start?
We've covered several things to consider when shopping for a multihead weigher, but with the cannabis industry, Yamato knows there are so many other idiosyncrasies that must be considered. While this list certainly isn't exhaustive, it is a good place to start.
Whether you've been in operation for years and are looking to upgrade your equipment, or you're just starting out in the industry, Yamato's experts are available to discuss your unique needs and recommend the best weighing and cannabis packaging equipment for your operation.
This article was originally published by Yamato.