Allpack launches PaintGuard™️ - the sustainable packaging in-transit solution for liquid products
Supplier News
Allpack, a leader in sustainable packaging solutions, is proud to announce the launch of its revolutionary new product, PaintGuard™️.
PaintGuard™️ is a sustainable packaging in-transit solution for liquid products providing unmatched protection for paint and other liquid products against damage during transportation.
PaintGuard™️ is designed to be environmentally friendly, made of 100% recycled materials, and is fully recyclable after use. Unlike traditional packaging solutions, which are often single-use and end up in landfills, PaintGuard™️ is a sustainable option that minimizes environmental impact.
The product features an innovative design that creates a protective housing between the liquid container to sit in and the outer packaging, preventing damage caused by vibration, impact, or temperature fluctuations during transportation. This ensures that the product arrives at its destination in pristine condition, without any leakage or spills.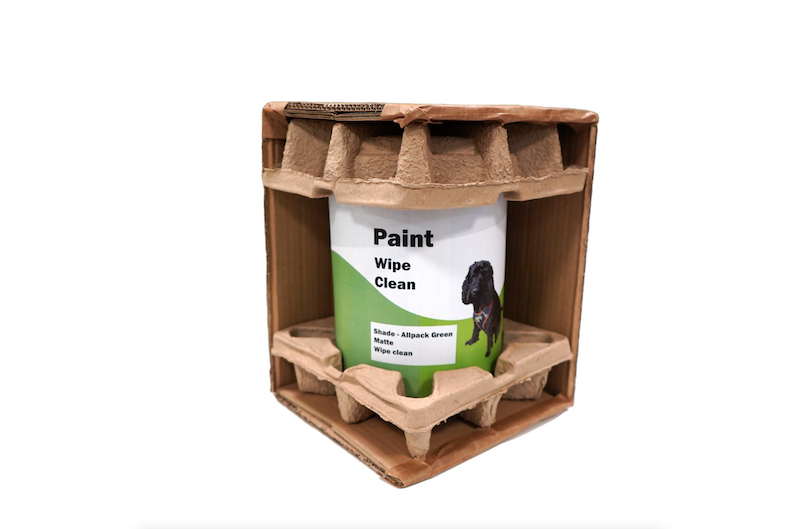 PaintGuard™️ is also incredibly easy to use, with a simple and intuitive design that requires no additional tools or equipment. The product is available in a range of sizes and configurations, making it suitable for a variety of liquid products.
Marcus Clarke, Allpack Sales Director, said: We are excited to launch PaintGuard™️, a game-changing solution that addresses the challenges of in-transit packaging for liquid products. Our team has worked tirelessly to develop a product that is not only sustainable but also delivers superior protection for liquid products during transportation. We believe that PaintGuard™️ will revolutionize the way liquid products are packaged and shipped, helping our customers reduce waste and minimize their environmental footprint.
Ask for a demo from one of our sales representatives or request a PaintGuard™️ sample pack today or view the PaintGuard™ range online on our website. We invite you to experience the future of sustainable packaging with PaintGuard™️ by contacting us on 01543 396700 or via the enquiry form.