Adelphi Masterfil: filling machines - how they can improve your output
Supplier News
Investing in a filling line is the best way to increase productivity without reducing your margin. The key is to plan for growth. Things to consider are space, operator capability, desired production rates and budget.
Transitional growth
Moving from manual filling to a semi-automatic filler, or from a semi-automatic filler to an automatic filler, upgrading the process in stages, can be a good economical way to scale if you are a small business.
Accelerated growth
Accelerating by adding a full new line is a way to grow at a faster rate but requires more investment up front.
Liquid filling machine
An automatic or semi-automatic liquid filling machine can improve accuracy of fill – thus reducing wastage – and you can increase the amount of vessels filled by adding more nozzles to each fill process, and increasing output. Depending on the industry that requires the filling, filling machines can be designed with high accuracy, with aseptic set up, or hygienic set up, and most are designed to strip down and be cleaned between filling by an operator in situ. Volumes of fill can often dictate the best method for filling, such as a pharmaceutical fill usually looking for very high accuracy in small volumes, often 10ml or less, or a large volume IBC filler which is less dependant on high accuracy but may need to be slower to avoid foaming or spillage of high value or hazardous materials.
Semi-automatic
Semi-automatic filling machines work well in a small-to-medium scale production area, but larger businesses can also utilise this flexible method for R&D projects and seasonal specials.
Using a foot pedal to trigger the filler, the operator has good control over the filling speeds. The operator will place containers under the filling heads by hand.
Automatic
Automatic liquid and bottle filling machinery is ideal for large businesses which have a large output, or for those which have outgrown their semi-automatic filler. This still requires operator input and supervision, but is less dependent on their manual dexterity. This tends to mean batches can run for longer and shifts of filling can be longer, often with a 24-hour ambition.
Conveyors pass bottles through the machine and filling is set on an automatic cycle, so operators are freed up to assist with other tasks such as capping and packing.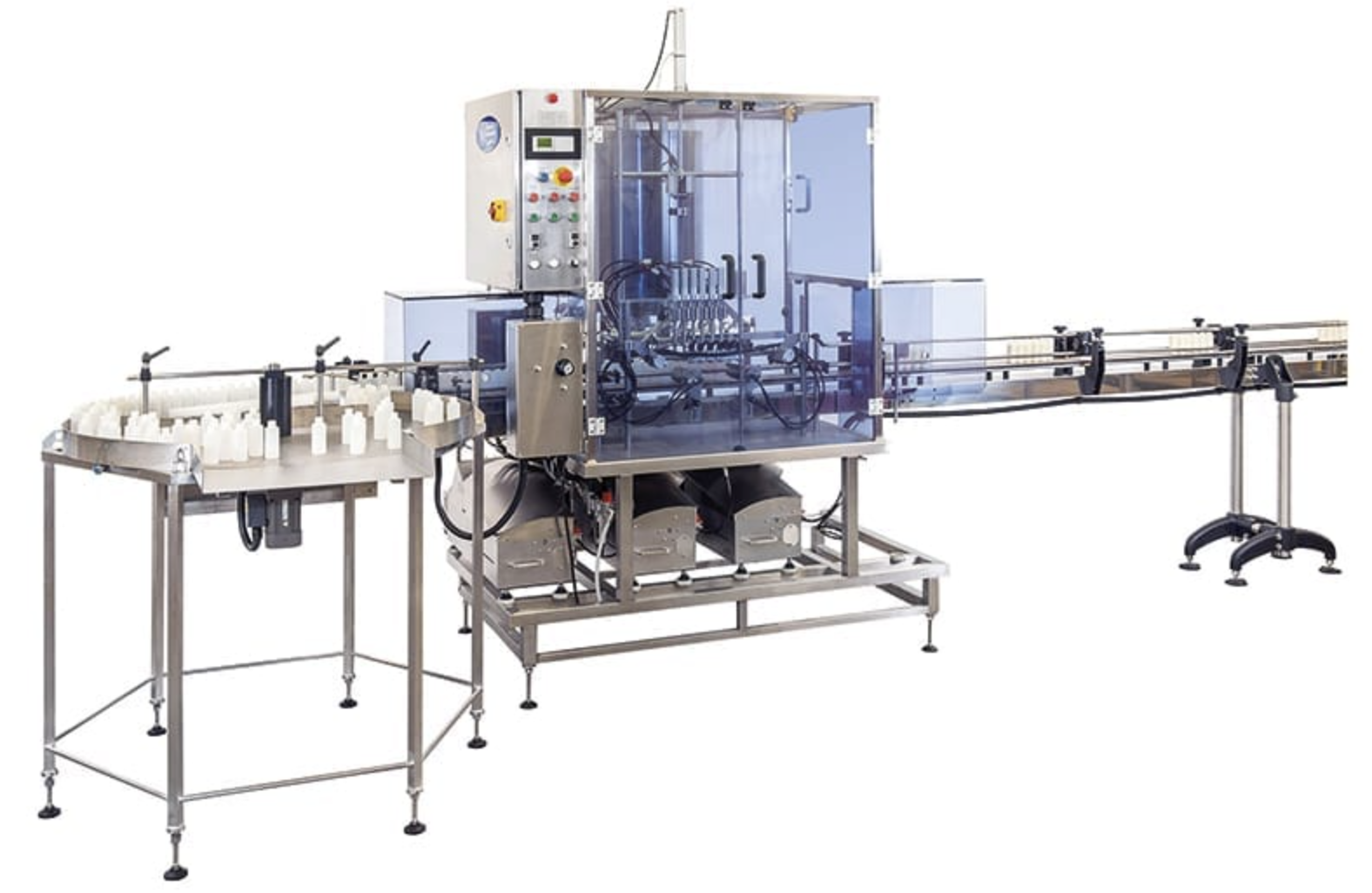 High accuracy volumetric filling machines
Volumetric fillers are used for filling free flowing materials and work by measuring a volume of the product into the container rather than by weight or size of container. There are different types of volumetric filler, and the most common ones utilised every day in industry are piston fillers and flowmeter fillers.
Piston filling machines
This type of filling machine can be good for products which are thin up to moderate in density, such as oil, beverage, dairy, and some paints. The accuracy comes from measuring the displacement of the piston in the cylinder, and ensures consistent and precise fill volumes. This is important in industries that are regulated to produce a standard weight or volume of product. The e-mark we see on our packaging as consumers is a sign in the EU that the volume or weight method has been used by the manufacturer during packaging. The most common industries that use volumetric filling are pharmaceutical, cosmetics, and food and beverage.
Flowmeter filling machines
Flowmeter filling machines work with the aid of an electronic sensor, which measures flow of liquid and cuts it off via a system of valves, after the pre-programmed quantity of fluid has passed the sensor. A pump that is suitable for the viscosity of the product is used to keep the flow at a consistent level, to protect the accuracy.
Flowmeter Fillers can also be operated from a gravity-fed system, whereby product is supplied under the force of gravity from an elevated storage tank. This can have its pros and cons, so the method is usually dictated by the viscosity of the product.
As the flowmeter system has fewer mechanical parts – for example no piston – it can seem quicker and easier to clean so can suit an environment where cleaning between runs is required.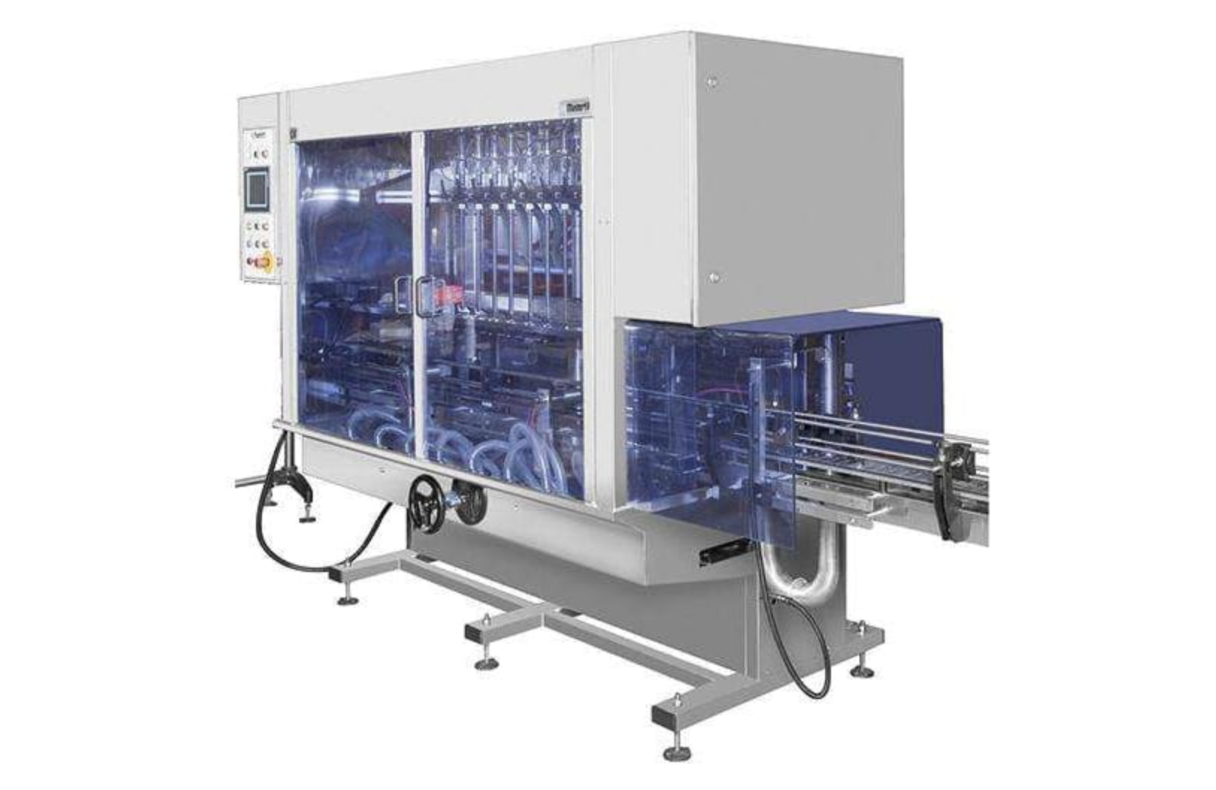 Weigh scale filling machines
Utilising sensors and high accuracy weigh scales is another way to fill liquids. These are well suited to bulk filling. They are also referred to as Net Weight Fillers.
Higher output with quality machines
There is a wide range of filling machines available globally, but not all are built to a quality. Investing in a build that has been built to a high standard will produce a better return of investment in the long term. Using easy to clean and durable materials for frames, and 316L grade stainless steel where hygiene is important in wetted or contact parts, is a sign of quality. Building to high accuracy and consistent fill rate requires technical expertise and quality parts through a trusted supply chain.
Explore your options with Adelphi
Adelphi Masterfil offer a range of semi and automatic liquid filling machines with a choice of up to 12 filling heads. Their machines are available in volumetric, flowmeter, weigh scale and drum filling.
Adelphi Manufacturing offer scalable solutions to incorporate any existing Response Benchtop Fillers into a Response Monobloc Filler and Capper or a Response Automation Base. Upgrading your current solution means your initial investment is never obsolete.
Use our filter system on the left-hand side of our liquid filling page to personalise search information to your needs; for example, via container size and type, operation, output or system.
This article was originally published by Adelphi Group of Companies.