Adelphi Healthcare Packaging: protect your drug with vial sleeves
Supplier News
From contamination risk mitigation to anti-counterfeiting, vial sleeves have a multitude of benefits. In this article we focus on safety.
What are vial sleeve preforms?
Sleeve materials
Trusted by pharmaceutical companies across the globe, vial preforms wrap your vial in a film of protection. They can be produced in PVC or PET in thicknesses ranging from 50 to 70 µm. Transparent film is supplied as standard and offers excellent clarity to aid inspection of the vial contents, while opaque and printed sleeves are available on request.
Cleanroom manufacture
Our protective vial sleeve preforms are manufactured by Adelphi partner Connexion Sleeve under class 8 cleanroom conditions in their Netherlands-based factory. They are supplied 'pre-formed' to fit your container perfectly, and can be shrunk onto your vial using a shrink tunnel after filling. A plastic base-cap is an optional extra for additional protection to the base of the vial.
What are the benefits of using a vial sleeve?

When deciding which vial sleeve is right for you, it is important to understand what your specific needs and challenges are. There are sleeves to suit various requirements, and here we are focusing on the subject of safety.
Safety benefits include:
Protection against vial breakage
Prevention of contamination from the outer walls of the vial
Encapsulation of the vial contents in the unlikely event of breakage
Additional possibilities with our vial sleeves:
Anti-counterfeiting solutions
UV-blocking
Opaque preforms for blind clinical trials
Tamper evidence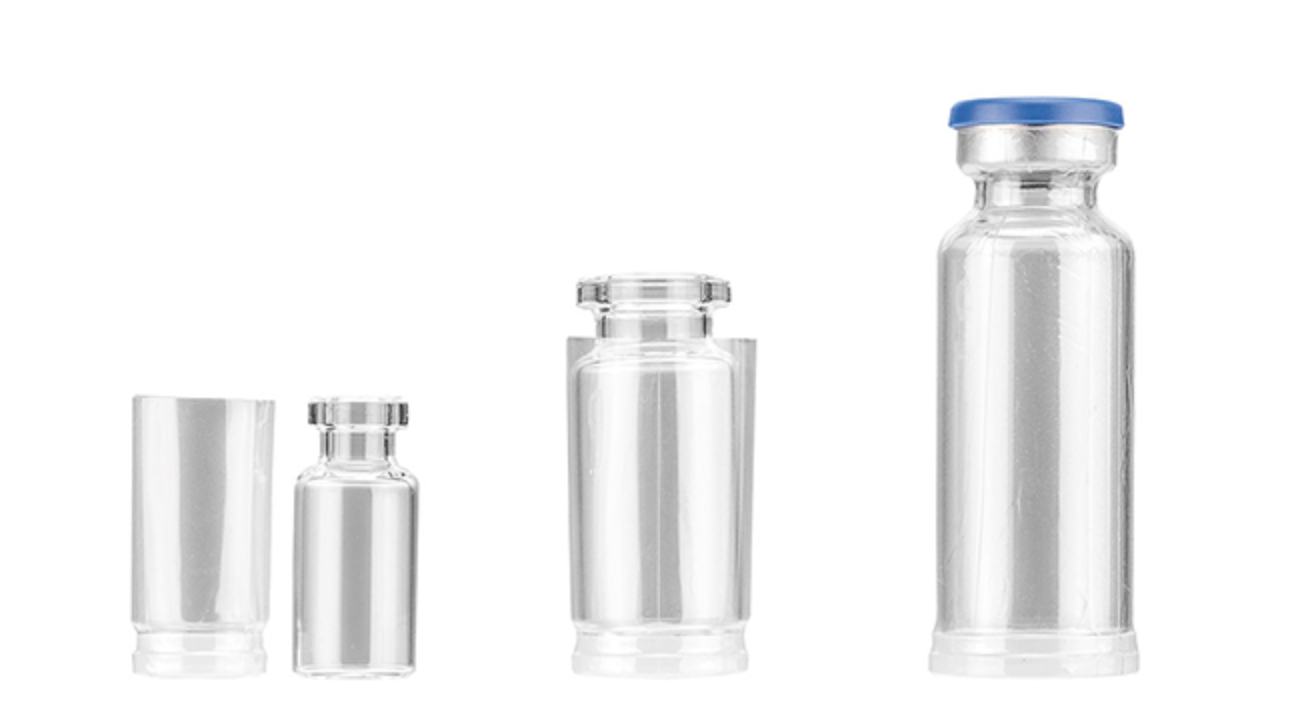 Protect your drug and your personnel
Protection from radioactive contamination
Even after washing, residual trace contamination can remain on the outer walls of a vial after filling with toxic or radioactive substances. Perhaps the most common concern addressed by vial sleeves is user safety.
To protect radiopharmacists and healthcare professionals in their duties whilst working with nuclear medicines, protective vial sleeves are applied to the vial post-filling and provide a barrier between the potentially contaminated outer walls of the vial and the handler.
Prevention of vial breakage
Contamination risk for oncology medicines also arises through breakage of the drug container. Vial sleeves provide additional strength to the container overall, particularly with the addition of a base cap, significantly reducing the likelihood of the vial breaking, when dropped for example.
Encapsulation of the toxic substance
In the unlikely event a vial does break, the radioactive contents are contained within the sleeve, allowing for safe clean-up.
How are protective vial sleeves applied?

Shrink tunnel application
The vial sleeve is designed to fit your container perfectly after shrinking and is applied to the vial using a shrinking line which consists of a conveyor and a hot air tunnel. An operator places the vial onto the conveyor, after which it will pass through the heat tunnel shrinking the preform securely onto the vial.
Want to know more?

Talk to our friendly team about how protective vial sleeves could improve safety in your processes.
This article was originally published by Adelphi Healthcare Packaging.