Stourgarden and Newtec: 23 years with Newtec weighing machines
Supplier News
Stourgarden, a UK company that started in 1995 and now handles more than one million packs of onions per week, has recently purchased Newtec's weighing machines to address their weighing and packing needs.
Newtec's accurate weighing machines helped automate Stourgarden's packhouse while maintaining the high quality of the company's produce. According to Stourgarden packhouse manager Mick Patterson, the company had Newtec weighing machines for roughly 23 years. 'Efficiency is amazing and the portion sizes are really accurate'.
Ideal weighing and packing solution for large products
Stourgarden's first project consists of Newtec's weighing machine, model 4010W1 for combination with two-net on-roll machines (Horizontal Form-Fill-Seal Machines (HFFS)) on each side of the weighing machine. The 4010W1 was chosen for the solution because it is ideal for very large products such as onions, potatoes, beetroots, and citrus fruits, and efficiently handles products in large sizes and quantities.
The second project involves Newtec's weighing machine, model 4015B2 in combination with a Vertical Form Fill Seal (VFFS) bagging machine. Stourgarden utilises three of Newtec's weighing machines, model 4015B2.
According to Stourgarden: Today, we handle well in excess of one million individual packs of onions every week. This amounts to over 75,000t of onions a year, all grown in Essex, Suffolk, Norfolk and Kent.
Newtec's weighing machines guarantee a very high accuracy resulting in a very low percentage of giveaways.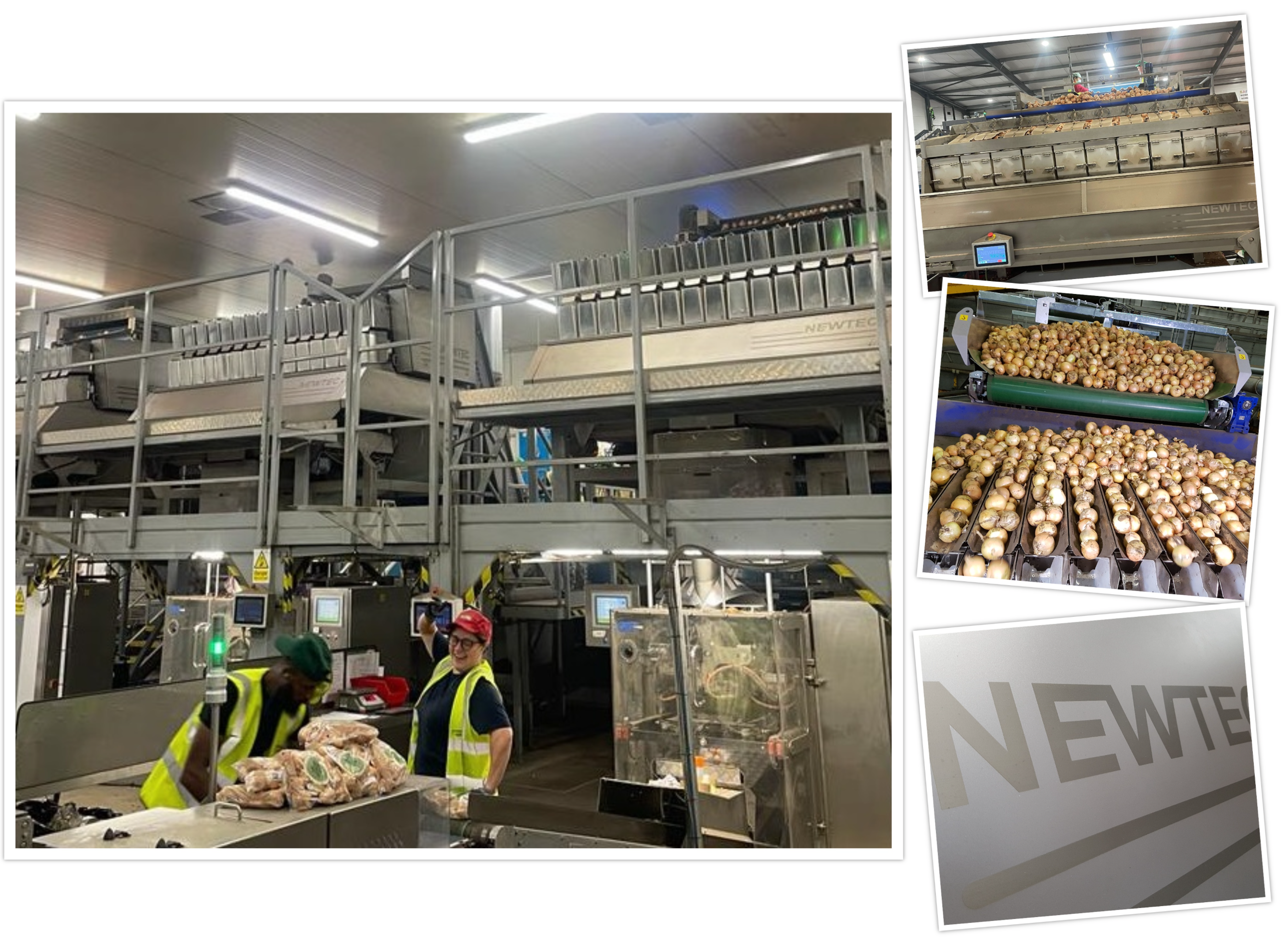 Optimised onion packing with Newtec's automated weighing machines
For Stourgarden, Newtec's weighing machine, model 4010W1 offers a range of advantages for automating and optimising the weighing and packing process of onions. Some of these advantages include high weighing accuracy and minimal giveaway of less than 0.2%, high speed of operation offering a capacity of up to 20 portions per minute at 25kg, appropriately sized weigh heads for large products and portions, as well as remote machine and data management.
Mick Patterson testifies to the advantages of the Newtec machines. According to Patterson, there were challenges before investing in a new line and buying Newtec: I looked at many other weighing machines and trusted what Newtec promised and purchased two and never looked back. We wanted to achieve as accurate weighing as possible without affecting the speed and quality.' In addition to the weighing machines' versatility, what really made a difference for Patterson was the accuracy of operations, as well as maintaining top quality at the highest possible speed.
The machine itself comprises a durable stainless-steel construction with heavy-duty vibrator lanes to seamlessly place the product into the weigh heads, which is easy to use, easy to clean and cost-effective. Offering efficiency and reliability, Newtec's machine model 4010W1 is purposely built for the handling of large products like onions and potatoes. The machine consists of extra-large weigh heads so that the bridging of products can be prevented. The weigh heads are easy to remove without using tools.
Adding value to the machine's offerings is Newtec WebServices, which allows for remote servicing and managing production data. Furthermore, Newtec's intuitive interface is upgradable, and its level of automation makes weighing and packing more accurate and manageable without compromising the quality of the produce while maintaining an excellent level of performance.
Newtec's weighing machine, model 4015B2 also boosts the weighing process by offering a high-speed weighing capacity with 15 heads and a VarioSpeed function that allows for adjustability and flexibility.
There is also an optional count-to-target kit that ensures clients meet the targets for packs with a specific number of products. In a single discharge, the weighing machine has a capacity of up to 100, depending on the products' kilograms (for large products like onions and potatoes). The machine's capacity boosts weighing and packing performance while adapting to the packing needs and portion size of the produce.
Both models offer ease of use and minimise challenges. As Patterson says: We do all the maintenance in-house, so it is easy to maintain and the setup is very user-friendly. Targets are met as with regular preventative maintenance they do not go wrong. We pack 1kg at a steady on our 4015B2 – 75/80 packs a minute on three different onion varieties – browns, reds and pinks. On our 4010W1 we pack 4kg, 5kg, 10kg, 20kg and 25kg net on roll.
Reliable, automated processes and adaptable technology offered by Newtec's machines mean low maintenance in the packhouse and speed of production while respecting the produce and making weighing and packing much easier and faster. This means that, with the help of Newtec machines, Stourgarden can deliver top-quality products to customers in a timely and efficient way.
On-time delivery and responsiveness to customer needs are key priorities for Stourgarden, and Newtec's machines contribute to this by being effective and adaptable. A great advantage offered by Newtec's weighing and packing machines is ensuring operational efficiency and accurate net-packing of onions while keeping products fresh.