Printpack and Berry Global partner for sustainable flexible packaging
Supplier News
Berry Global Group, Inc. announces its collaboration with film converter and manufacturer, Printpack, leveraging their independent strengths in film manufacturing and conversion to create packaging solutions which support increased customer demand for more sustainable packaging.
Together, the companies introduce the Preserve™ PE PCR recyclable* polyethylene (PE) pouch. The pouch is How2Recycle pre-qualified, and contains 30% FDA–compliant post-consumer recycled resin (PCR) content. The package features Berry Global's Entour™ sealant film technology and the Entour Bold machine direction-oriented print film. A low seal initiation temperature sealant provides a wide processing window for stand-up pouch packaging equipment.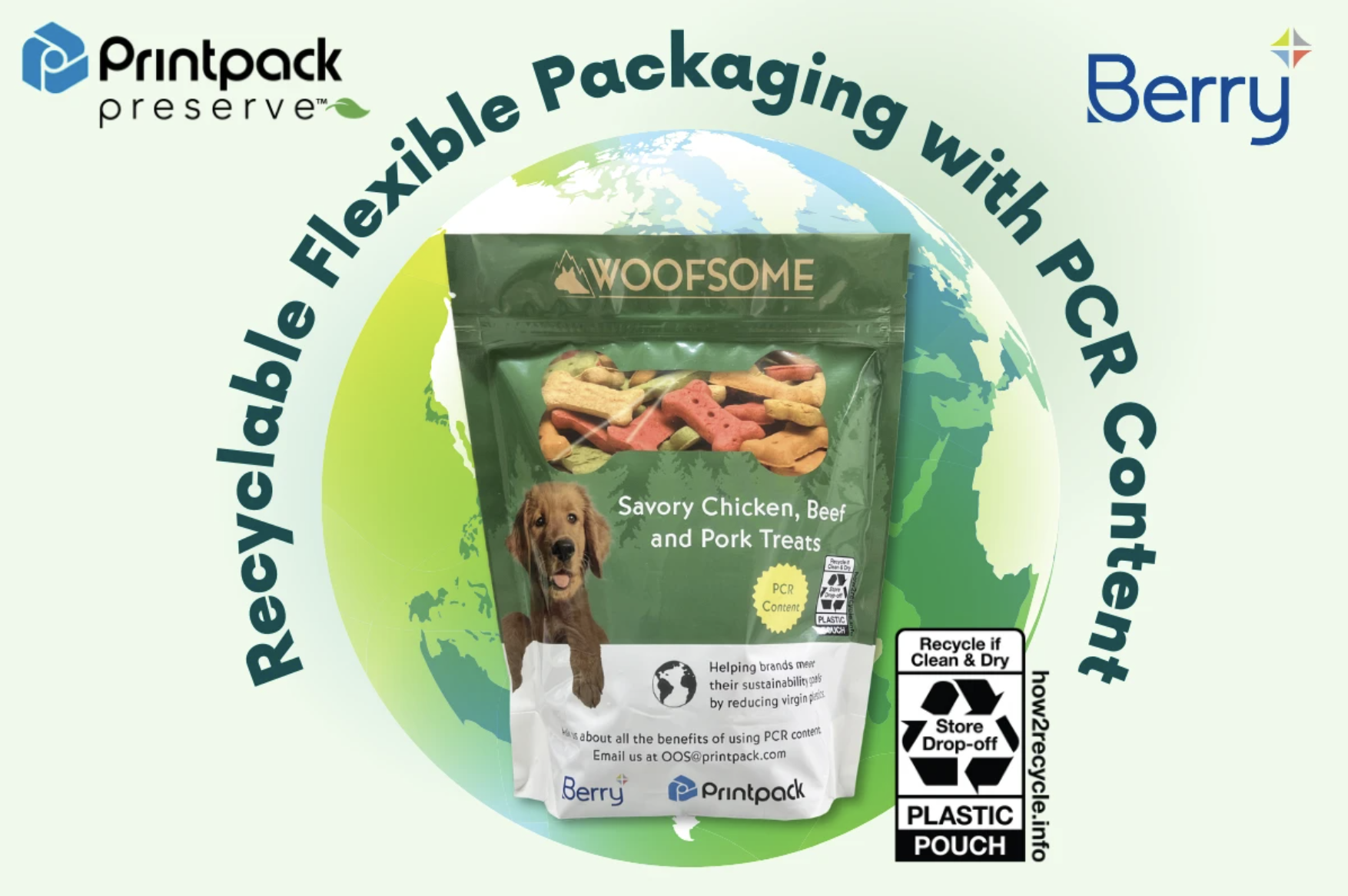 As consumer-packaged goods (CPG) companies work towards their ambitious sustainability goals, they look to suppliers for solutions with improved recyclability, decreased virgin plastic use, and lower carbon footprint compared to equivalent products made from virgin plastic, while maintaining package performance. The innovative solution was brought to life through the collaboration of Berry's Entour film manufacturing and Printpack's converting expertise to deliver on these customers' demands.
"I'm proud to collaborate across the plastics value chain to advance circularity of our products," said Caleb Triplett, Product Management Director for Berry Global. "Our goal in developing the Entour family of films is to establish a foundation of products which can be leveraged to expand the sustainable offerings across flexible packaging solutions. Through partnerships such as this, we continue to make strides toward circularity."
Through this collaboration, the companies provide finished product in packaging formats such as pre-made pouches, vertical form fill and seal, and horizontal form fill and seal packaging. The packaging can be used for multiple end-use markets, including dry foods, nutraceuticals, and pet food. Consumers can recycle the marked packages through in-store recycling drop-off locations at participating retailers.
"Printpack is very excited to collaborate with Berry to deliver a pouch that meets the recyclability and PCR content goals of many of our customers," said Dave McLain, Senior Director, Sustainability for Printpack. "We are always seeking to minimize those tradeoffs between conventional and more sustainable packaging."
This article was originally published by Printpack.