Allpack launches grip® Taper - the innovative water-activated paper tape dispenser
Supplier News
Allpack is excited to announce the launch of its latest product, the grip® Taper. The innovative water-activated paper tape dispenser is designed to make packaging processes more efficient and environmentally friendly.
The grip® Taper allows operators to use biodegradable reinforced paper tape anywhere with ease. The device is handheld and battery-operated, providing the freedom to pack parcels anywhere without the limitations of bulky desktop machines. The taper has a multitude of settings, enabling users to adjust the tape length and speed as required.
The grip® Taper is a compact and mobile device, weighing just 2.188KG when loaded. With a run time of approximately 8 hours (depending on usage), a tank capacity of 350ml and comes with an 8.4V battery included, ensures the new grip® Taper can pack parcels throughout the day with ease.
The grip® Taper is designed to make packaging easier and more efficient than ever before. With its unique, patent-pending design, the grip® Taper allows users to easily apply water-activated paper tape to their packages with one hand while holding the package with the other. This frees up the other hand, making packaging faster and more ergonomic.
One of the standout features of the grip® Taper is its use of proprietary grip® demineralised water. This advanced technology ensures that the tape dispenser functions at its optimal level and produces reliable and secure seals. Operators can improve their carbon footprint by using reinforced paper tape and grip® demineralised water while maintaining high security and productivity standards.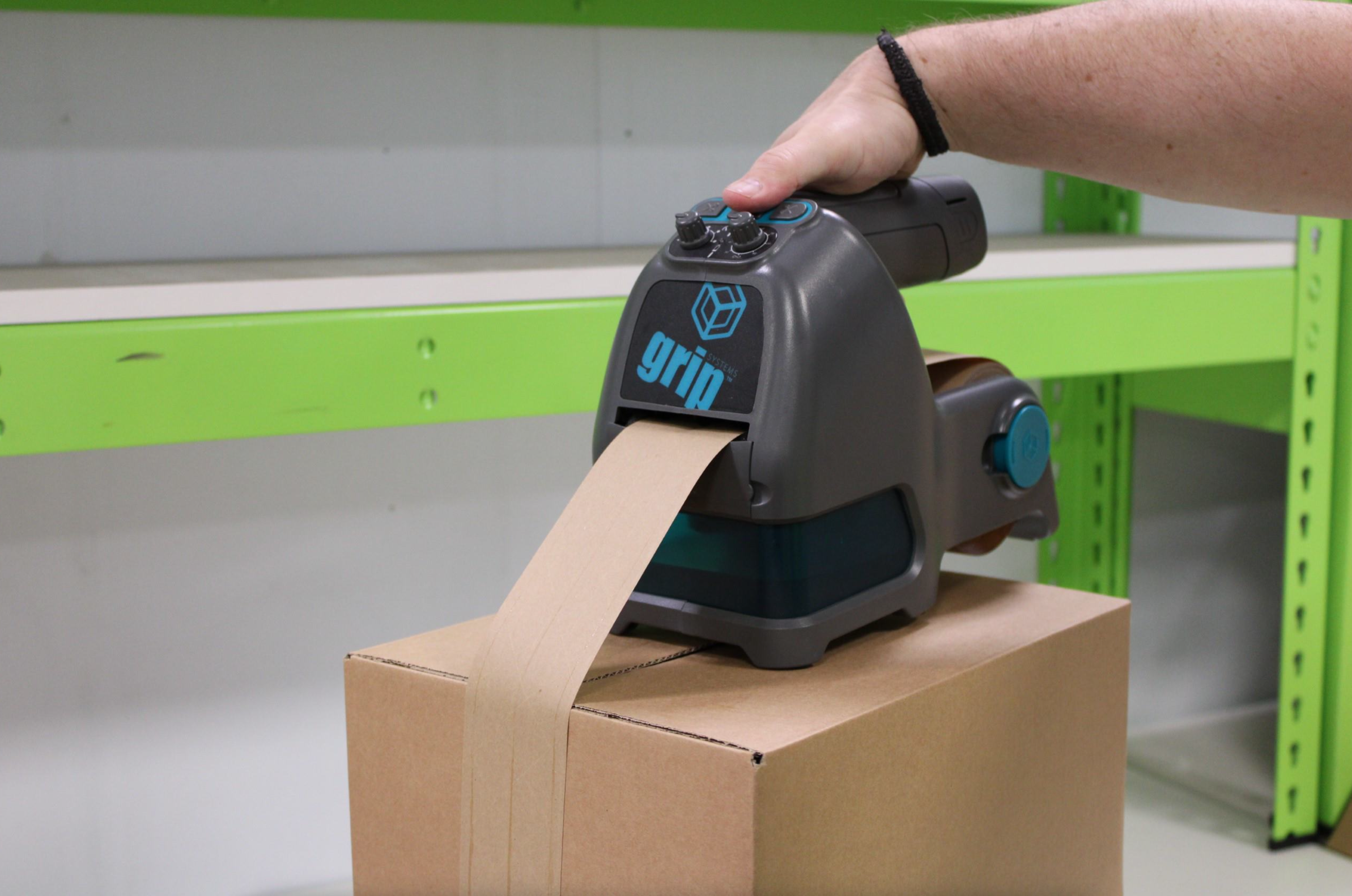 The latest dispensing innovation from grip®, the Taper is part of the grip® Stack System, which elevates and clears messy and disorganised packing benches, improving packing processes' efficiency and reducing stress for operators.
This easy-to-use taping solution is an excellent alternative to traditional desktop tape dispensers, taking up only half the space while being just as effective. The device's multiple tape lengths and speed settings provide greater flexibility and control over the packaging process.
Allpack's Sales Director, Marcus Clarke, said: We are very excited to introduce the grip® Taper to the market. We believe that this product will help revolutionise the packaging industry by making packaging faster, more ergonomic, and more sustainable.
The grip® Taper is a handheld, battery-operated, and automatic water-activated tape dispenser that offers many advantages over traditional tape dispensers. By using biodegradable reinforced paper tape and grip® demineralised water, the device provides a more environmentally friendly and secure packaging solution. With its compact design, adjustable settings, and long-lasting battery life, the grip® Taper is a must-have for any packaging operation looking to improve efficiency and help reduce its carbon footprint.
To book your demonstration of the new grip® Taper, please contact Allpack on 01543 396 777 or via the enquiry form. For more information visit www.allpack.uk.com/grip-taper.