Adelphi Healthcare Packaging: why is liquid inspection important?
Supplier News
Why is liquid inspection pivotal to the pharmaceutical manufacturing process?
Liquid inspection is a process where specialists will analyse medical containers or vials to examine whether they are of a certain quality and fit for distribution. Inspecting medical containers can help identify particles including foreign particles, dead skin, and other contaminants that can be very dangerous when injected unknowingly in a clinical environment. Utilising a liquid inspection process allows companies to inspect their vials or medical containers for foreign contaminants, helping them meet European and American market standards. Liquid inspection is critical for multiple market sectors including pharmaceutical, academia, biotech and hospitals, to check their vials or containers are within regulatory limits.
Why is liquid inspection so important?

In 2014, the PDA (Parenteral Drug Association) published a paper, 'Industry Perspective on the Medical Risk of Visible Particles in Injectable Products', stating that if a medical device contained at least one extrinsic particle, then it would not be safe for parenteral application. This, in turn, has highlighted that particle contamination can seriously damage the reputation of drug manufacturers, and can also lead to costly batch recalls. This is why a companies and pharmaceutical organisations invest in Liquid Inspection Units.
In 2008 the European Pharmacopoeia released the 2.9.20 specification and the US Pharmacopoeia USP chapter 41 (1790), section 6.1 which states the specifications that a Liquid Inspection Unit needs to meet, to be used and to certify that a product has been checked for particulate contamination and is fit for market.
A Liquid Inspection Unit provides companies with the ability to detect foreign contaminants within their vial. This makes them paramount for any company who is wanting to bring their drug towards the global market. The benefits of utilising a Liquid Inspection Unit that conforms to required regulations is that it allows drug developers to readily check injectable drugs for extrinsic and intrinsic particles within the vial.
Is a manual inspection unit necessary or should I just go fully automated?
Manual inspection is a vital and highly regulated procedure in pharmaceutical research and manufacturing laboratories, with inspectors searching for critical defects which could potentially lead to patient safety issues. Even after automated visual inspection, a sample of units from each batch is inspected a second time, to ensure that any remaining level of defects is statistically acceptable. Current compendia and regulations require this inspection to be done manually – regardless of the complexity and sophistication of automated visual inspection.
The Apollo series
This is where products such as those within the Apollo series can provide a key role within the healthcare/pharmaceutical industry. Adelphi Healthcare Packaging's sister company, Adelphi Manufacturing have produced inspection units, known as the
Apollo series
. These are built ready-to-use machines for pharmaceutical manufacturers to manually inspect and evaluate products cost-effectively. What makes Adelphi Manufacturing's
Apollo II
so important and stand out t the market is that it conforms to the European and United States Pharmacopeia specifications; helping laboratories develop medical products that are fit for international markets.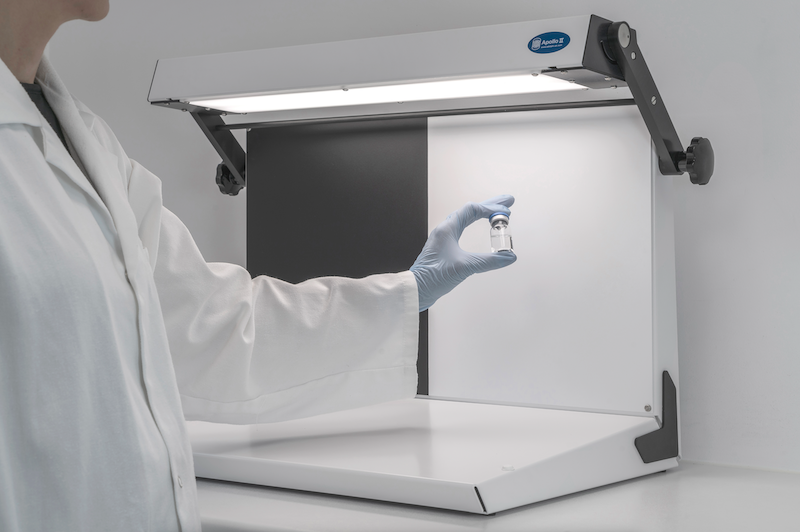 What can be inspected with the Apollo series:
The Apollo series is designed for pharmaceutical and laboratory environments, providing an easy and simple way to detect particles visible to the naked human eye. Liquid viewers can be used to inspect liquid product held in transparent and translucent containers such as clear and amber vials, ampoules and bottles. Furthermore, the design of the Apollo II allows for simple application; the unit can be operated by simply swirling the individual container in front of both panels, observing for any particulate contamination present within the medical container.
Are there different features? What are their benefits and uses?

The Apollo range was launched in 2001 with the purpose of helping pharmaceutical labs make their products fit for purpose. Since then, Adelphi Manufacturing has launched the Apollo II, which has since been regularly updated to match the latest rules and regulations within the pharmaceutical and healthcare industries. Some notable differences between the latest and the original Apollo models are as follows:
•The Apollo II contains two separate panels to highlight distinct particles that appear within the container. The white panel helps to identify dark coloured particulates, while the black panel highlights lighter coloured particles.
•It has two LED Lights that produce a balanced and efficient light tone.
•Conforms to European Pharmacopoeia 2.9.20 and to the US Pharmacopoeia specifications.
•A fold up frame provides easy storage and protection of the unit, without taking up too much space.
All of Adelphi Manufacturing's Apollo models are built to fulfil a distinct purpose towards a particular need within the pharmaceutical and healthcare industries. If you're looking for a more up-close intense view of your vial, the Apollo I has 1.7x magnification to provide the closest view of a transparent container. Along with this, Adelphi Manufacturing have created two additional variations of Apollo II series. These variations are as follows:
Apollo II Dimmable Liquid Inspection Unit
The second variation is the dimmable light Apollo II, this can be used for when medical containers are light sensitive. Therefore, the dimmable light variation allows labs and pharmaceutical specialists to test for particulates without impacting the liquid inside the vial. This Liquid Inspection Unit includes an adjustable light tool that can be managed during, before and after conducting an examination of a medical device.
Apollo II High Intensity Liquid Inspection Unit
The third variation of the Apollo II is an Inspection Unit designed for coloured glass containers (e.g. amber) to get more visual clarity when examining vials with a darkened transparency. To improve visibility Adelphi Manufacturing have included with this model a light source that can reach between an 8,000 to 10,000 LUX.
Adelphi Manufacturing has retained certain specifications across the Apollo II line to help lab specialists be comfortable with the easy-to-use design. Firstly, the easy-to-use assembly that can be put together simply and in under 10 minutes. The sleek and stowable design allows customers to store their Liquid Inspection Unit in a safe place without taking up too much room. Adelphi Manufacturing has kept the white stainless-steel structure, which makes grime and dirt easy to see, helping laboratory specialists maintain and remove any contaminants on the surface of the Apollo unit. Finally, all certification is provided with any order, along with full supporting documentation to satisfy pharmaceutical regulations and ensure audit compliance.
How do I use an Apollo II Liquid Inspection Unit?
The Apollo II series remains a staple mark of quality control within the healthcare and pharmaceutical industries. Inspection of a container is achieved by simply swirling it in front of a light and placing the container between both light and dark panels, to ascertain whether there are particles present visible to the naked eye. These are ideal for use alongside many Adelphi Healthcare Packaging containers and other liquid-viewable containers including ampoules, siliconized vials, SCHOTT glass vials, and coloured glass containers. This makes it important for any laboratory to have when producing drugs that are ready for the market.
How can I buy one? Can you ship to me?
If you are interested in purchasing one of Adelphi Manufacturing's Apollo liquid inspection units, please get in contact with one of the Adelphi Manufacturing team. They can provide on hand technical support and advise you on the assembly of your device. Spares are available upon request.
Apollo inspection units are available from stock for fast worldwide delivery.
Learn more about the Apollo Range and request a quote:
Adelphi Healthcare Packaging is part of the Adelphi Group of Companies. Within the group we have four complimentary businesses including Adelphi Manufacturing, Adelphi Masterfil, Pharma Hygiene Products and Adelphi Healthcare Packaging.

Find out more about the Adelphi Group of Companies here.
This article was originally published by Adelphi Healthcare Packaging.